Kitchen & Bathroom Remodeling in Jacksonville
Are you planning to remodel your kitchen or bathroom? Eagerton Plumbing Co., Inc. is an experienced kitchen and bathroom remodeler in Jacksonville with more than 50 years of experience in the industry. Our other services include plumbing repairs, re-piping, and new installations for bathroom cabinets and kitchen cabinets. We are dedicated to providing our customers with high-quality service, including customized solutions to difficult problems. We'll get the job done right the first time, and we offer free estimates for all major repair and remodeling projects.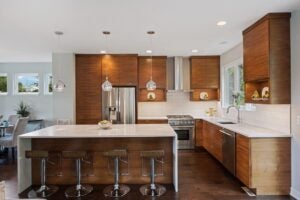 Remodeling Your Kitchen
Once you've decided on your kitchen ideas, your first step should be to decide what your priorities are. These are just some of the many approaches you can take to remodeling your kitchen:
Adding shelf space. If your kitchen feels too small, there are strategies you can use to increase the amount of space you have available. Adding extra cabinet shelves or new kitchen cabinets is a great way to make your kitchen more functional.
Replacing windows. If your kitchen doesn't get as much natural light as you would like, consider expanding your current windows or adding new ones. Customized windows can add an individual touch to your kitchen, along with making the room feel more open and airy.
Upgrading appliances. Are your monthly energy bills too high? Changing out your current appliances—such as your refrigerator, dishwasher, and garbage disposal—for energy-efficient models can help rein in your bills, and can also make your kitchen look and feel newer.
Remodeling Your Bathroom
A bathroom remodeling project gives you the opportunity to make your bathroom ideas more luxurious, functional, and energy-efficient. No matter what the size of your bathroom is, there are a host of possible ways in which you can rethink it:
Replace your shower. Remodeling your shower is a great way to turn your bathroom into your own personal sanctuary. Installing smart new shower doors, adding a skid-resistant floor, and retiling your shower walls are just some of the ways in which you can make your shower more stylish and comfortable.
Adding cabinets. If you want to expand the amount of usable space in your bathroom, installing new cabinets is a great way to do it. There is a wide range of different customized bathroom cabinets you can use in your bathroom, from closet cabinets to ceiling cabinets.
Installing new accessories. Replacing some of your bathroom's various accessories is a great way to give it a new, rejuvenated look. For instance, you might consider adding new towel bars, faucets, shelves, or soap dishes.
Contact Eagerton Plumbing Co., Inc. today at 904-388-0761 and get started with a FREE estimate, or browse our website for more information about our plumbing services.
Why Choose Us?
Over 50 years of industry experience
Florida Certified Experts
Customized solutions that fit your needs and lifestyle at competitive rates