24/7 Emergency Plumbing in Jacksonville
Emergencies happen. It might be a burst pipe at 3 a.m., an overflowing toilet, or a flooded basement. And when it happens, the last thing you need is a plumber who'll show up a few days later. Eagerton Plumbing provides 24/7 emergency plumbing in the Jacksonville area—so no matter how big the issue is, and no matter what time it is, our experienced emergency plumbers will take care of the problem in no time. That's our promise.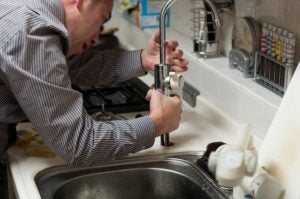 What is Emergency Plumbing?
One of the most common questions clients ask is how to determine if the situation at hand qualifies as a plumbing emergency. Some of the more typical plumbing emergencies our plumbers handle in the Jacksonville area include burst or frozen pipes, clogged sinks or drains, water heater repairs or leak repairs. Here's what you should do in the event of some common plumbing emergencies in Jacksonville while you wait for us to arrive:
Frozen or burst pipes: Although fairly common, these are very serious plumbing emergencies. While you wait for one of our expert plumbers to arrive, the most important thing to do is to shut off all water flow to your home, so your house doesn't flood. If the pipe is frozen, we may be able to thaw it without damaging the pipe.
Backed-up sewer systems: If you notice foul odors coming out of your drain, and your drain is clogged, you may have a sewer system that's backed up. Unfortunately, in situations like these, the only thing you can do is call in one of our emergency plumbers.
Clogged drains: This may not be an emergency if your drain is just taking longer than usual to drain, but if there's no water flow and the drains are backed up, consider giving the Eagerton Plumbing team a call. To avoid having this situation escalate into an emergency, just contact us before the drain is fully blocked. If your sink or bathtub isn't draining at all, you'll just have to wait for our emergency plumbers to arrive.
The best way to avoid having a plumbing emergency is to take preventative maintenance. Schedule a yearly service check so we can take care of any potential issues before they become a problem. Instead of waiting for an issue to arrive, which is often time-consuming and costly, stay ahead of the curve with the help of our plumbers! But in the event you need 24/7 emergency plumbing in Jacksonville, don't hesitate to contact the trusted plumbers of Eagerton Plumbing!
 Reliable, Trustworthy Emergency Plumbing Services
At Eagerton Plumbing, we understand the importance of plumbing emergencies, which is why we provide speedy service and fast, lasting solutions. No matter the scale of the emergency, our experienced plumbers (who are all licensed, insured, and background checked) will handle the situation professionally. We'll get the job done right the first time, with no property damage. For all your plumbing emergencies, no matter what time of the day it is, contact us at Eagerton Plumbing to get your stressful situation under control.
 Request your quote for emergency plumbing services; call (904) 388-0761!
Why Choose Us?
Over 50 years of industry experience
Florida Certified Experts
Customized solutions that fit your needs and lifestyle at competitive rates