Septic Service Provider in Jacksonville, FL
Trust Eagerton Plumbing For All Your Septic Services
For more than 50 years, Eagerton Plumbing has been the team of expert plumbers Jacksonville, FL trusts to get drains cleaned, pipes cleared, and for all septic services. They know when they call on us day or night, we are quick to respond and deliver our plumbing solutions swiftly, all with a smile. They come equipped with the best tools the industry has to offer and the certifications and licensing you need to feel confident when hiring them. By holding them to these high standards, we can ensure they deliver the best services possible to get clean water flowing in your Jacksonville home or office again in no time. Septic services are one of our specialties because having access to a properly working toilet system is paramount to the health and wellness of your space. Give us a call anytime because we provide emergency services 24 hours a day.
What You Need to Know About Your Septic Tank
Getting to know your septic tank is one of the best things to help your home and office. By gaining the knowledge of how they work and what they do for your family and employees can show you how important it is to call on our professional plumbers when there are issues. Many home and business owners do not understand how the septic system works because it is generally buried in the ground. Typically made from concrete, fiberglass, or plastic, this system was designed to be a simple, on-site sewage facility. It breaks down the solids and other waste sent from your toilet, sinks, showers, and laundry on the way to the public treatment system. The system uses biological decomposition and drainage to keep your home and office's water clean and healthy. You need to make sure this system works efficiently and effectively, and Eagerton Plumbing is just the team to work with when there are problems.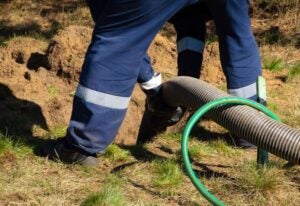 Septic Services We Provide Throughout Jacksonville, FL
No matter the make or model, you can count on the professionals at Eagerton Plumbing to have the tools, knowledge, and skills to provide your house or office with stellar septic services. Being in the industry as long as we have has allowed us to work with a multitude of septic makes and models, so you can rest easy knowing we can help with your system. When it comes to maintenance, repairs, and replacements, Eagerton Plumbing provides it all for our Jacksonville clients. And when you are ready to purchase a new tank, we will gladly get it professionally installed for you. We can also come out to your home or office anytime you need assistance. With 24/7 emergency plumbing options, you can have clean water and flushing abilities again in no time.
Tips to Avoid Frequent Septic Service Calls
Overuse and time, your septic tank will need servicing in order to stay efficient and to stay running properly. And while you should reach out to Eagerton Plumbing when you need these septic services, there are tasks you can complete to prevent premature replacements and costly repairs. Check them out below:
Be careful what you put in the toilet
Keep grease out of your drain
Having an efficient toilet helps
Keep rainwater away from the septic drain
Maintain proper landscaping near the septic drain
Do not overload the septic tank
Commonly Asked Questions About Septic Services
Understandably, many home and business owners have questions about how their tanks operate and what septic services look like from our professionals. Many times we see the same questions over and over, so to prevent you from having to call in, we have included some of those commonly asked questions:
How often do I need my septic tank cleaned? – Our experts say the septic tank should be cleaned out every 1-2 years. Some factors could change or allow us to hone in on specific timeframes for cleaning septic services.
Will there be strange odors while working on my septic system? – There may be some odor as we open the tank and provide our septic services, but it will dissipate a few hours after we leave.
Can I use bleach to clean my septic tank? – While bleach usually helps us clean appliances and floors around the home, it can kill the helpful bacteria in your septic tank. Removing these weakens your septic tank's ability to do its job correctly.
Why does water pool over my septic tank? – This could be a sign of a break in your mainline or the result of an overflowing tank from too much rain in the area. Either way, you should call Eagerton Plumbing for an inspection.
How much can I use my garbage disposal? – While using a garbage disposal is okay, you want to be careful about how much you put in it. The bacteria in the tank cannot break down food particles, so try to dispose of them some other way.
Why Choose Eagerton Plumbing For Septic Services?
At Eagerton Plumbing, we dedicate ourselves to ensuring you receive all the proper plumbing services and septic services necessary to keep your family and employees safe. Giving you access to clean water is our number one priority, which is why we provide Jacksonville commercial and residential customers with emergency services. We have access to all the best septic tank parts and replacements to ensure your system function for its entire lifespan to the best of its abilities. If you ever have questions about the septic services we provide or need tips for maintenance in between our trips, please do not hesitate to ask.
Call Eagerton Plumbing Day or Night
Have issues with flushing? Is your kitchen sink not draining properly? Call on the professional plumbing technicians at Eagerton Plumbing any time of day or night to have us inspect your system and provide plumbing and septic services swiftly. Our friendly experts come to your home to check your system and then discover the issue while developing a personalized solution to match your budget and get your system back up and running. Even if you are unsure if there is a problem, it is always suggested to give us a call. The sooner we can find a problem, the sooner we can get it fixed without leading to premature replacements or higher repair costs.
Why Choose Us?
Over 50 years of industry experience
Florida Certified Experts
Customized solutions that fit your needs and lifestyle at competitive rates