Slab Leak Repair and Detection Services in Jacksonville, FL
Leaks in your home's slab foundation can cause significant damage if left unnoticed, leading to severe water damage and structural damage in an integral part of your home.
If you suspect you have a slab leak or think there may be a leak in your home that you are unable to locate, call on our team at Eagerton Plumbing in Jacksonville, FL. Our skilled plumbers and water leak detection experts will identify any leaks and locate the source of the problems. We will then get to work repairing the slab leak so you can rest easy knowing your home is protected from further leak damage.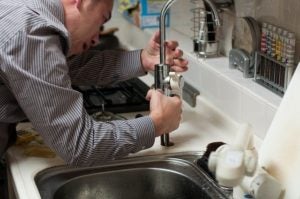 Signs of a Slab Leak
Leaks in the slab foundation of your home or business can be difficult to detect, going unchecked for many weeks and potentially leading to thousands of dollars in damage to your building. These leaks are caused by water supply pipes or sewer pipes in the foundation that have been cracked or damaged. Unlike an exposed dripping pipe under your sink or in your basement, these can be difficult to detect and repair. Some signs that may indicate you have a slab leak include:
Increased water bills: If you notice a spike in your water bill when you're not using any more water than usual, that's a pretty good sign you have an undetected leak somewhere in your home or business. Leaks allow water to run around the clock, consuming far more water than you would typically use.
Mold and mildew: If you see mold and mildew growing on carpet or can simply smell a musty odor from mold and mildew potentially growing in your walls, you may be dealing with a slab leak. Water from the leak can make its way into your flooring or seep into your home's walls, leading to mold and mildew growth.
Standing water: If you notice water pooling near the edges of your house along the foundation, it could be an indicator of a slab leak in the foundation. Check to be sure the water isn't coming from external sources, like hoses or pooled rainwater.
Warped or damp flooring: Slab leaks will lead to water accumulating under your flooring and sometimes cause noticeable damage to wood flooring or carpeting. Warped wood flooring or damp carpeted areas are key signs you're dealing with a slab leak.
Repairing Slab Leaks
If you notice any of these signs in your home or business, call our team at Eagerton Plumbing in Jacksonville, FL, right away. Detecting a slab leak early on is key to performing repairs before the leak leads to serious damage. Our team will come out to your property as quickly as possible to locate the leak and determine the appropriate method of repair. Some common techniques for repairing slab leaks include:
Re-piping: This method involves replacing the entire line to repair the current leak and guard against future leaks in the same line.
Pipe Repair: If the leaky pipe is relatively new, we may cut into the foundation to access the pipe to repair.
Pipe coating: This method uses an epoxy pipe coating to repair the pipe from within, avoiding the need to reopen the foundation.
If you suspect you're dealing with a slab leak, don't hesitate to call in our expert plumbers.
Call (904) 388-0761 today for slab leak repair!
Why Choose Us?
Over 50 years of industry experience
Florida Certified Experts
Customized solutions that fit your needs and lifestyle at competitive rates