Drain and sewer line installation, Jacksonville, FL
Get Expert Drain & Sewer Line Installation in Your Home
Reliable drains and sewer lines are a must-have for modern homeowners. Most homes connect to municipal sewer lines or septic systems. However, you are still responsible for proper drainage to those systems. As your drains and sewer lines age, they can break down, need repairs or total replacement to ensure proper flow and sanitation. Eagerton Plumbing in Jacksonville, FL, has the installation solutions you need. For more than 50 years, our local company has worked with homeowners throughout the area, installing superior drains and sewer lines to meet modern needs. Our trained, certified installation experts will come to your home, assess the condition of your lines using the most advanced diagnostic equipment, and guide you through the installation process from start to finish, so you stay informed. Once you're comfortable, we'll set to work quickly and efficiently, installing top-of-line drains and sewer line connections and minimizing any interruption to your daily life. Contact us today for your free quote and let Eagerton Plumbing give you ideal water flow for life.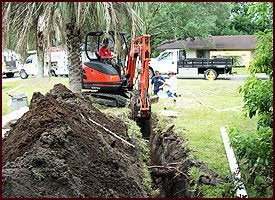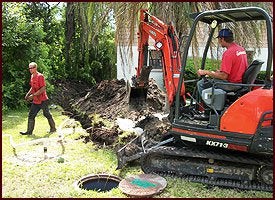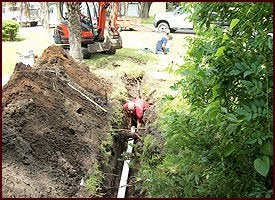 Common Causes of Drain and Sewer Line Problems
Drain and sewer line problems can come from almost anywhere. The entire process is underground, so preventing issues before they happen can be difficult. However, when you start to experience signs of sewer line problems and drainage, issues tend to present themselves almost immediately. At Eagerton Plumbing, we have seen some of the most common drain and sewer line problems at thousands of homes throughout the Jacksonville area and perfected our methods to solve them fast. These common problems can include:
Root Invasion: No matter what your pipes are made of, tree roots can bore into them and clog your connection over time. Older and taller trees have the most active and intrusive roots and must be dealt with almost immediately if you want to keep your water flowing properly. The most effective solution to tree root issues is removing the tree entirely, so the roots die and replacing the line with a modern, professional installation.
Pipe Leaks: Even the most minor leak in your pipes can cause severe water damage over time. Leaks can destroy entire pipe sections, cause mold and mildew issues, and create additional structural problems if left unaddressed. When you discover a leak, contact the installation experts at Eagerton Plumbing. We'll inspect all damage and replace all sections of your sewer or drain line to eliminate leaks for good.
Clogging: Sometimes, your drain or sewer line problems stem from improper usage or everyday clogs. Grime, hair, grease, and other materials can be washed into your drains and can lead to a nasty clog. Pouring store-bought drain cleaners into your lines can damage them further, so you want to avoid that. If you cannot access and unclog the line yourself, call in our experts from Eagerton Plumbing. We'll be pleased to unclog your drains using specialized tools or install new line connections to improve your overall flow.
Our Drain and Sewer Line Installation Process
Whether you are replacing an old or broken line, building a new home, or renovating your existing home, new sewer or drainpipe installation can only improve your plumbing. At Eagerton Plumbing, we follow a specialized, multi-step process with every installation to ensure the ultimate utility, convenience, and plumbing flow. Our professional installation work includes:
Drain Ventilation Lines: Each drain has a ventilation pipe and s-curve. These components prevent gases from escaping into living spaces and making them uninhabitable. When installing new lines, pipes, and connections, we check to see if your system contains these elements, replace them, or install new ones to put your mind at ease.
Traditional Sewer Line Installation: Traditional sewer line installation is our specialty. We utilize the industry's top digging and trenching equipment to create space for your durable modern lines and lay the pipe safely and efficiently. If you have plants within the work zone, they will need to be removed.
Why Choose Eagerton Plumbing?
Eagerton Plumbing has been a leading provider of comprehensive plumbing services in Jacksonville, FL, for more than half a century. Homeowners throughout the area rely on us for everything from extraordinary installations of today's modern drain and sewer lines to a comprehensive range of repair and maintenance services as well. Our trained, certified experts have a keen eye for detail and can quickly diagnose every issue with your plumbing during our personalized onsite estimate. Opting to work with us means you get solutions to address all of your issues – day or night – using the industry's most sophisticated technology and installation methods. We answer questions, work around your schedule, and deliver the 5-star experience you deserve from beginning to end, guaranteed.  Contact us today to schedule your free estimate and discover how we have earned our sterling reputation for installations and service.
Contact Eagerton Plumbing for Drain & New Sewer Line Installation
Being proactive about your old, damaged, or leaking pipes can save you more in the long run. When you need professional-grade installation of new drains or sewer lines, turn to the one company Jacksonville homeowners trust the most. Contact Eagerton Plumbing for your free quote, and let us optimize your plumbing for life.
Why Choose Us?
Over 50 years of industry experience
Florida Certified Experts
Customized solutions that fit your needs and lifestyle at competitive rates