Drain and Sewer Line Installation in Jacksonville
A reliable drain and sewer system is a very important aspect of modern indoor comfort. Most people in the country have their sewer lines connected to municipal sewer systems. However, the homeowner is responsible for the portion of the sewer line that runs from the house to the street, as well as all the drain lines inside the house. If you're in dire need of drain or sewer line installation, contact the Jacksonville plumbing experts at Eagerton Plumbing Co., Inc. We've been providing drain line and sewer line installation in Jacksonville for more than 50 years.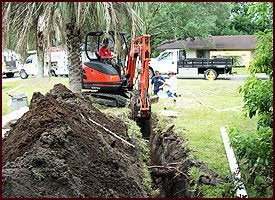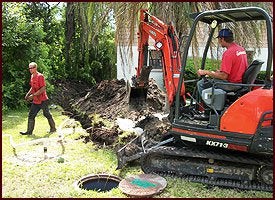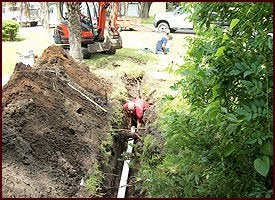 Common Drain and Sewer Line Problems
If there's a problem with your drain lines or sewer line, you'll likely find out about it very quickly. Here are a few common drain and sewer line problems.
Root Invasion: If there is a tree close to your sewer line, there's a good chance that the roots will damage it over time. If this is the case, you may need to remove the tree and replace the line.
Leaky Pipe: If left unaddressed, a leaky pipe could cause a considerable amount of water damage in a short amount of time. A leaky sewer or drain line will need to be replaced as soon as possible.
Clogging: There's a good chance that flushing garbage or grease down the drain will lead to a nasty clog. Most clogs can be removed with special plumbing tools.
Drain and Sewer Line Installation Process
There are several reasons why you might install a new drain or sewer line. Whether you're replacing an old line, building a house, or renovating your current home, the team at Eagerton Plumbing Co., Inc. can help.
Drain Line Ventilation: Each drain line should have a ventilation pipe and s-curve to prevent gases from escaping into the living spaces. This is one reason why it's important to leave the installation to the professionals.
Traditional Sewer Line Installation: Traditional sewer line installation involves digging a large trench and laying pipe. If you have plants in your front yard, they will need to be removed.
Repairing a leaky drain or sewer line is essential for reducing your water consumption, which is great for the environment. If you're planning on remodeling your home, and need your drain or sewer line reconfigured, call Eagerton Plumbing Co., Inc. at (904) 388-0761.
Why Choose Us?
Over 50 years of industry experience
Florida Certified Experts
Customized solutions that fit your needs and lifestyle at competitive rates