Bathroom Remodeling in Jacksonville
If you want to add value to your home before you sell, or simply want to upgrade your outdated bathroom,  Eagerton Plumbing is the place to call! We have decades of combined experience when it comes to remodeling bathrooms in Jacksonville, and we guarantee that our experts will get the job done on time and within your budget, all while providing you with a beautiful final bathroom. Get started by contacting us today in Jacksonville for your bathroom remodeling project.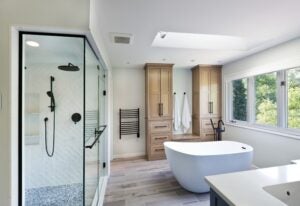 Why Us?
Remodeling a bathroom is a tricky task. With water lines, drains, a toilet, and a faucet to deal with, it's important to take all this into careful consideration when drawing up the design plan. We've dealt with many complicated bathroom remodels, so we know what can go wrong—and exactly where it can go wrong. We will design around it to ensure you get your dream bathroom, all while making sure it actually works. By taking care of the boring details such as precise measurements, piping, and all of that, we give you the freedom and time to focus on the visual aspects, making your bathroom remodel a breeze! We also crunch all the numbers for you. If you want to have a more energy-efficient bathroom to cut down costs, we'll help you figure out what's the best option for your specific situation and walk you through the entire process.
Our licensed and insured bathroom remodelers will make sure that your bathroom remodeling project is as stress- and hassle-free as possible; after all, why should updating your bathroom finish or planning an expansion or addition be so complicated? With the help of our experts, increase the functionality of your home with your own unique style and touch—and get the job done right, the first time around!
 Our Bathroom Remodeling Services
We provide various services in Jacksonville to help with your bathroom remodel; from designing the initial layout to the final cleanup, the Eagerton Plumbing team will be there from the very beginning to the end. It doesn't matter how big or small your Jacksonville bathroom is, or how complex your plans are; we can handle it! Some of our services include replacing and installing bathroom fixtures, such as customized cabinets or smart showers. These are important fixtures that can help to define and modernize your bathroom. Other aspects we can take care of include installing or replacing your countertops, tiles, and other plumbing fixtures. Our kitchen remodelers also can install brand-new accessories to pull together the final product. For example, we can help with sourcing and installing accessories such as grab bars, towel rings, soap dishes, and more. And of course, when we are done, we clean up behind ourselves to allow you to enjoy your masterpiece.
Contact us today in Jacksonville by giving us a call or filling out our form to receive your free quote. By combining our advanced technical skills and creative vision along with your input, we'll turn your vision into reality. We look forward to working with you!
Call Eagerton Plumbing today at (904) 388-0761 for your free estimate!
Why Choose Us?
Over 50 years of industry experience
Florida Certified Experts
Customized solutions that fit your needs and lifestyle at competitive rates