Commercial Plumbing Services in Jacksonville
Trust Us for Our Experience
Do you need an experienced plumber for your business? Eagerton Plumbing is available to service your company's plumbing needs in Jacksonville. Whatever your plumbing need may be, we can help. Choosing the right plumber for your business is important, as commercial jobs tend to be larger than residential ones. You need to get the job done right, the first time. With more than 50 years in the business, we have the experience needed to get the job done quickly and accurately.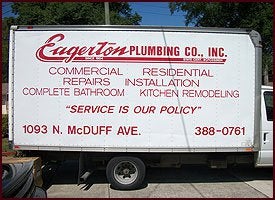 Serving Commercial & Industrial Facilities
We are Florida State Certified and have been serving the Jacksonville community for several decades. Our goal is to have superior customer satisfaction and we have even received Angie's List Super Service Award 2013. We offer quality workmanship so you know the job has been completed correctly the first time.
At Eagerton Plumbing, we offer a full array of commercial services including:
Plumbing repairs
Re-piping
New installation
Our team specializes in plumbing repairs and guarantees we can get the job done quickly. If you are noticing leaking water in your business, let us find and fix the problem. We can tackle any size job, from water heater repairs to sewer line installation, and can do it all with a quality you can depend on. Our installation services include full piping and water hook-ups, but we can also install the smaller appliances for you, such as faucets, drains, toilets, and other fixtures.
When it comes to your plumbing needs, we work to find customized solutions that fit your business' needs. We also offer competitive rates and are available 24/7 to better serve your needs. We understand that you never know when a plumbing emergency may occur. Contact us at (904) 388-0761 today for a free estimate!
Why Choose Us?
Over 50 years of industry experience
Florida Certified Experts
Customized solutions that fit your needs and lifestyle at competitive rates