Commercial Plumbing Services in Jacksonville, FL
Keep Your Business Running with Expert Commercial Plumbing
Plumbing problems at your office, factory, or facilities can derail your operations in a hurry. When pipes burst, appliances start leaking, or you need a new installation, not every commercial plumbing service will do. Only the experts at Eagerton Plumbing in Jacksonville, FL, have the equipment, experience, training, and dedication you need to get things up and running again without delay. Whatever your plumbing needs may be, we can help. Our trusted local company understands that commercial jobs tend to be larger and more complex than residential ones. You need to get the job done right the first time. With over 50 years of commercial plumbing experience, we have the expertise needed to diagnose all your issues, devise the right solutions, and flawlessly execute all repairs and installs on a timeframe and budget that works for your business. Contact us today for more information or to schedule your free estimate.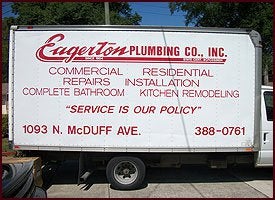 When Do I Call a Commercial Plumber?
As a business owner, you do whatever you can to keep profits up and maintenance costs down. Often, that means avoiding visits from service professionals like contractors, HVAC technicians, and, yes, commercial plumbers. However, not calling in the experts and trying DIY solutions can cost you more in the long run. At Eagerton Plumbing, we know. We have seen it. But how do you know when you've reached the need for professional commercial plumbing? There are some common signs you can look for to help you make the call and optimize your plumbing systems:
Increased Water Bill/Utility Costs: When you notice your water bill outpacing your overall usage, you could have a leak. Our commercial plumbing experts can identify these issues, repair them fast, and save you more over time.   
Running Water: If you think you hear running water behind your walls, chances are it is there. Continuously running water is not only an enormous waste of natural resources, but it can cause problems later on if it changes course and comes through your fixtures.
Visible Water Leaks: Sometimes leaks present themselves in more obvious ways by soaking your walls, floors, and ceilings. This is generally a clear indication of a burst pipe that needs replacing. This should always be completed by a trained professional to ensure ideal water pressure and function.
Slow Drains: Backed-up drains can be a real pain for your employees and can cause sanitation and hygiene problems. Eagerton commercial plumbers have the right skills to unclog everything and ensure clean, speedy drains when you need them.
Clogging Toilets: Clogged toilets present obvious issues for your employees, visitors, and other personnel. Constant toilet issues could mean something wrong with the pipes, the toilet itself, or other system elements. Eagerton can help you discover what these issues are and provide expert solutions to get things flowing again.
Our Wide Range of Commercial Plumbing Services
Eagerton Plumbing is Florida State Certified and has been serving the Jacksonville community for several decades. Our goal is to give you the commercial plumbing service solutions and superior customer satisfaction you deserve. To give your business an ideal experience from start to finish, Eagerton Plumbing provides a full array of commercial plumbing services, including:
Plumbing Repairs: If any of your plumbing appliances are leaking, malfunctioning, or are just plain broken, we have the expertise and equipment to complete all types of repairs. Our commercial plumbing contractors will get everything back into working order again or give you insights about total replacement.
Re-Piping: Repairs for old or damaged pipes seldom stand the test of time. But replacing them entirely with re-piping services means new, lasting life for your plumbing systems.
New Installations: Eagerton Plumbing does new installations to modernize your commercial plumbing and bring everything up to code. We work with only the top quality materials and appliances from the best brand names and give you efficient, affordable service that makes all the difference.
Why Work with Eagerton Plumbing?
Our team specializes in plumbing repairs and guarantees we can get the job done quickly. We can tackle any size job, from water heater repairs to sewer line installation, and can do it all with a quality you can depend on. Our installation services include full piping and water hook-ups. But we can also install smaller appliances for you, such as faucets, drains, toilets, and other commercial plumbing fixtures. Our company has won awards such as the Angie's List Super Service Award in 2013, and we strive to maintain our sterling reputation for quality workmanship by completing your commercial job correctly the first time.
Contact Eagerton Plumbing for Your Commercial Needs
When it comes to your commercial plumbing, Eagerton Plumbing works to find customized solutions that fit your budget and business needs. We offer competitive rates and are always available 24/7 to better serve you. Contact us today for a free estimate.
Why Choose Us?
Over 50 years of industry experience
Florida Certified Experts
Customized solutions that fit your needs and lifestyle at competitive rates