Water Leak Repair and Detection in Jacksonville, FL
Do you hear an incessant dripping at night that you can't seem to locate? Are your water bills exceptionally high? Have you noticed water pooling in strange places?
If you answered "yes" to any of these questions, you may be dealing with a water leak. Pipes leaking in your home or business can be a hassle to repair, but leaving leaks unchecked will lead to greater problems down the road from water damage and mold and mildew growth.
At Eagerton Plumbing, we provide skilled water leak detection services and water leak repair services to homes and businesses throughout Jacksonville, FL. We are skilled at locating tough-to-find leaks and providing efficient, effective water leak repair solutions, so you don't have to worry about further damage to your property.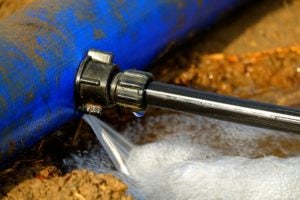 Causes of Water Leaks
Water leaks can happen for a range of reasons, from tree roots growing through pipes in your foundation to poor installation of the piping. While some leaks are ultimately beyond your control, there are some steps that you can take to prevent water leaks in your home or business. Here are some of the most common causes of water leaks so you know what dangers to look out for:
Deteriorating pipe joints: The places where your pipes join are the most vulnerable locations for leaks. These joints can deteriorate over time, creating the potential for water to seep out. Bringing in a plumber to evaluate your plumbing system on a regular basis is a great way to prevent leaks. A professional will assess the quality of the joints and ensure there isn't undue pressure on the joint that could lead to leaks.
Tree roots: Tree roots have a tendency to work their way into pipes through joints to get to the water source inside. These small roots can create gaps in the pipes as they grow, causing water to seep out into your yard or foundation. Take note if you have trees near your home, and consider scheduling regular checks for the intrusion to prevent major problems.
Clogged lines: Clogged pipes can cause more of a headache than simply backing up your sink, due to the potential pressure that can build up. Standing water in certain pipes or gutters can lead to overflow or burst the pipes based on the extent of the pressure.
Age: Old pipes can rust and corrode with age, leading to a thinning of the walls that keep the water separate from the rest of your home or business. If you notice discoloration or warping on your pipes, you should have a plumber assess their strength and determine if the pipes have reached the end of their lifespan.
Expert Water Leak Repair Services
If you suspect you have a water leak in your home, don't wait to call a plumber. Left unchecked, water leaks can lead to severe damage to your property, warping floorboards, contributing to mold, and weakening the structural integrity of the building.
Our team at Eagerton Plumbing in Jacksonville, FL, provides skilled, reliable water leak repair services.
Call (904) 388-0761 today for water leak repair!
Why Choose Us?
Over 50 years of industry experience
Florida Certified Experts
Customized solutions that fit your needs and lifestyle at competitive rates