Plumbing Services in Jacksonville, FL
At Eagerton Plumbing in Jacksonville, FL, we provide reliable, efficient, and affordable plumbing services for your home or business. From large bathroom remodeling jobs to small clogged drain repairs, our plumbing team provides superior service and repairs for your needs. We offer high-quality workmanship and excellent customer service on jobs big and small, helping keep your property's plumbing system running smoothly.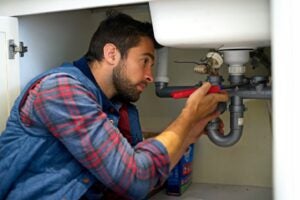 Our Plumbing Services
Our skilled plumbers at Eagerton Plumbing in Jacksonville, FL, provide a full range of plumbing services for homes and businesses alike. Whether you're interested in performing an entire kitchen remodel or are facing problems with your aging water heater, our team is here to help. Our plumbing services include:
Residential plumbing services: Our residential plumbing services cover everything from small jobs like new fixture installation to big remodeling projects. Our professional plumbers will ensure you are getting reliable, high-quality repairs and installations for your home.
Commercial plumbing services: With more than 50 years in the plumbing business, we have the skills and expertise necessary to handle large commercial plumbing jobs and get the work done right the first time.
Kitchen plumbing services: Our kitchen plumbing services cover all types of kitchen plumbing repairs and installations, including fixing clogged kitchen sinks, repairing garbage disposals, and installing new kitchen faucets.
Bathroom plumbing services and toilet repair: Whether you're dealing with a clogged toilet or need a new shower faucet, our team is here to help. We perform toilet repairs and bathroom plumbing work efficiently and effectively, so you can have minimal disruption to your daily life.
Tankless water heater repair and installation: Switching to a tankless water heater is a great way to improve the energy efficiency of your home and save on water bills. Our skilled plumbers provide tankless water heater repair and installation so you can enjoy the full benefit of these first-class water heaters.
Drain and sewer line installation: Our plumbing team provides reliable drain and sewer system installation and repair to help keep your sewer line running smoothly.
Water heater repair and installation: A broken water heater can interfere with showering, washing dishes, and more. Our team can help get your existing water heater back up and running quickly or replace an aging water heater with a newer, better model.
More Plumbing Services:
Preventive Plumbing Maintenance
One of the best ways to deal with plumbing problems and leaks is preventative plumbing maintenance. Our team at Eagerton Plumbing in Jacksonville, FL, provides routine inspections and maintenance at affordable prices, so you can rest easy knowing the plumbing in your home or business is in good shape.
Why Hire a Professional Plumber?
While tackling a plumbing problem by yourself may seem an affordable option, dealing with plumbing repairs without the assistance of a professional can sometimes lead to more severe damage or costly repairs down the line. At Eagerton Plumbing, it is our job every day. We have the expertise and tools to detect leaks, fully assess the extent of a plumbing problem, and provide effective solutions that require minimal time and cost. With our help, you can avoid turning a minor drain clog into a massive leak or pipe burst.
Call (904) 388-0761 today for plumbing services!
Why Choose Us?
Over 50 years of industry experience
Florida Certified Experts
Customized solutions that fit your needs and lifestyle at competitive rates