Bathroom Plumbing Services in Jacksonville, FL
Eagerton Plumbing is your full-service bathroom plumbing partner in Jacksonville, FL. We boast more than five decades' worth of experience in the plumbing industry, with certified experts ready to handle any task that comes our way. Bathroom plumbing is a convenience that gets little attention when everything operates as it should. But it does not take long to notice any problems that may arise, and you are sure to seek emergency plumbing services at the first sign something is amiss. Eagerton Plumbing is happy to spring into action at the drop of a hat. Call us for any immediate needs you may have. We can also handle routine plumbing requests in Jacksonville, FL. If you need to install a sink, repair a shower or faucet, or insulate your pipes, rely on the professionals at Eagerton Plumbing. Call us to learn more.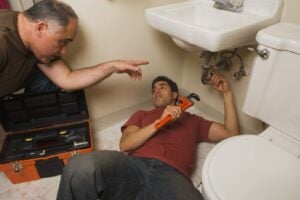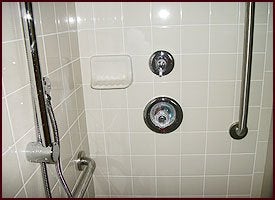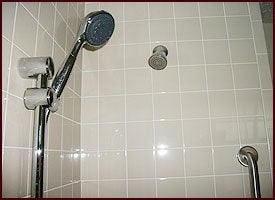 Eagerton Plumbing Offers Comprehensive Plumbing Services
Eagerton Plumbing offers a wide array of plumbing services in Jacksonville, FL to ensure your toilets, sinks, and showers operate efficiently. We have been doing business in the area since 1954, mastering a few tricks along the way. Whether you have a clogged toilet, need to replace the drain in your shower, or want to install a new tub, we have the expertise to handle the job. Our comprehensive plumbing services include:
Faucet Repair and Installation
Has a leaky faucet finally pushed you to your breaking point and you can no longer stand the constant dripping sounds or puddles on your vanity? If your faucet is broken, leaking or just plain does not match the aesthetic of your bathroom, let our team of plumbers fix or replace it for you. We will arrive at your Jacksonville-area home equipped with all of the tools necessary to complete the job. If you want us to fix your leak without replacing the current equipment, we will do so. If you want us to replace your old faucet with a new, stylish one, we can do that too.
Shower Faucet and Drain Repair and Installation
A shower can be a relaxing way to unwind, a rejuvenating experience, or a means to quickly refresh following a long day's work. But if your shower head barely produces a trickle or your drain is inefficient, your shower experience will be less than satisfying. No one wants to struggle to rinse away soap because of a poor shower faucet. Worse yet, a shower will be ruined if you are standing in ankle-deep water because of an improperly-functioning drain system. Do not allow either of these miserable scenarios to happen in your home. Eagerton Plumbing can remedy a drain system that causes unwanted flooding in your tub or install a new shower faucet to restore your desired water pressure. Call us today so you can once again enjoy a hot, relaxing shower in no time.
Toilet Repair and Installation
The dreaded clogged toilet can create a panic in your Jacksonville, FL home. But it does not have to be a traumatic situation. Eagerton Plumbing has extensive experience dealing with backed-up toilets and can ensure that you avoid the mess and stress associated with one of your own. We provide same-day emergency plumbing services for many toilet-related problems. However, if your toilet is beyond repair, we can also quickly and efficiently install a replacement to guarantee your bathroom is operational as soon as possible.
Sink Repair and Installation
Eagerton Plumbing can handle jobs outside of the realm of pipes and running water. If you need to repair your bathroom sink or install a completely new one, you can depend on our team of professionals to do so with precision and care. If your bathroom's décor has evolved and your sink has become an eyesore, let us beautify your bathroom with a new sink installation in Jacksonville, FL.
Shower and Bathtub Repair and Installation
The next step following your sink installation may include a new bathtub or shower. Lucky for you, Eagerton Plumbing is a jack of all trades when it comes to bathroom plumbing. We are happy to install easy-access bathtubs and showers for those with mobility concerns, new showers to replace your dull versions, or fancy tubs with soothing jets to help you unwind and relax. In addition to installation services, we can repair or replace shower valves and resolve water pressure issues.
Pipe Insulation
With a concerted effort to make environmentally-friendly upgrades to homes in Jacksonville, FL, Eagerton Plumbing will happily insulate the pipes and water heater in your home. The results of this process will include reduced energy costs and shorter wait times for hot water for your bath or shower.
Contact Eagerton Plumbing for Service Today
The professional plumbers at Eagerton Plumbing in Jacksonville, FL welcome bathroom plumbing services jobs of all sizes. Our specialties include repairing leaky faucets, unclogging toilets, completing bathroom renovations, and replacing shower faucets that no longer operate correctly. But our team is capable of so much more. We have plumbers available around the clock to provide emergency plumbing services whenever a need arises. Trust the Jacksonville-area plumbers who have built a reputation for exceptional work and superior customer service since 1954. Contact us today to schedule an appointment or learn more.
Call 904-388-0761 today for bathroom plumbing services!
Why Choose Us?
Over 50 years of industry experience
Florida Certified Experts
Customized solutions that fit your needs and lifestyle at competitive rates