Toilet Repair in Jacksonville, FL
Toilet Repair Services With Eagerton Plumbing
When your toilet begins to malfunction, you may find yourself in a messy, stressful situation. Whether your toilet is not flushing, overflowing, clogged, or leaking, your toilet requires immediate action, and the certified plumbing experts at Eagerton Plumbing are ready to get to work! Backed by more than 50 years of experience, there is no plumbing situation we can't rectify!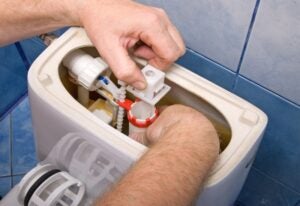 Our Toilet Repair Services
A faulty toilet can result in wasted water, money, and energy, but you can rely on the expert plumbing services offered by Eagerton Plumbing. Our toilet repair solutions are designed to diagnose, repair, and prevent the issue from causing further damage, ensuring your toilet functions optimally for years to come.
Common Toilet Issues
With more than half of a century in the plumbing industry, our experts have worked on minor to complex toilet repair issues. Common toilet repairs we've treated include:
A leaking toilet
A clogged toilet
Ghost flushing
Overflowing
Low-levelled toilet tank
Backups caused by the sink or tub
Dripping toilet tanks
Toilet Replacement Services
Toilets usually offer exceptional longevity. However, the components within the toilet tank have a shorter life expectancy. Signs that your toilet may need to be replaced include constant repairs, frequent clogging, cracks or scratches within the porcelain, or extensive water waste. If the time has come for your toilet, our experts are equipped to perform a toilet replacement.
The Benefits of Professional Toilet Repair Services
When your toilet needs repair, working with a professional can reduce the stress of the experience. Plumbers come equipped with all the necessary tools, equipment, and experience to perform a range of repairs that would be costly and burdensome to navigate on your own. Professional plumbers also work quickly and are backed by insurance.
FAQs About Toilet Repair & Toilet Replacement
We have compiled a list of toilet repair and toilet replacement plumbing FAQs to answer any questions you may have regarding your plumbing service.
Why Does My Toilet Run Constantly? There are several reasons your toilet may run constantly, such as:
The float height needs to be reconfigured
The flapper needs a replacement
The refill tube needs to be shortened
Why Is My Toilet Leaking Around the Base? A toilet leaking around the base is often the cause of loose tee bolts or a faulty wax ring that enables water to escape through the seal between the drainpipe and the toilet. If your toilet is leaking around the base, it is always best to have it inspected by a professional to ensure the necessary repairs are performed.
Are Low-Water Toilets More Cost-Effective? Low-flow toilets use 1.6 gallons of water, whereas older models may use up to seven gallons of water per flush. Therefore, if conserving water and reducing your utility costs are important to you, a low-flow toilet is an excellent idea.
How Often Do I Need a Toilet Replacement? On average, a toilet will last between 40 and 50 years with proper maintenance and occasional repairs. However, if a toilet was improperly installed, frequently misused, or never maintained, it may not offer the same longevity.
Can I Clean My Toilet With Chemical Drain Cleaners? You should never use chemical drain cleaners on your toilet. These chemical cleaners eat away at your toilet, producing enough heat to melt your pipes or crack your toilet bowl. Some cleaners may claim to be gentle on pipes, but it is best to avoid them to eliminate the risk of significant damage and costly repairs.
Trust Eagerton Plumbing With Your Plumbing Needs
As Jacksonville, Florida's leading provider of comprehensive plumbing services for more than half a century, our skilled team can carry out a range of high-quality plumbing services. We cover every component of functional home plumbing, including standard repair or replacement solutions, water tank installation, kitchen and bathroom remodeling, and more!
Contact Our Experts Today
If you're in need of toilet repair or toilet replacement services, the knowledgeable toilet plumbing experts at Eagerton Plumbing are here to help! You can count on quick, diligent service when you trust us with your home plumbing needs. Contact our friendly team today to discuss your plumbing situation!
Why Choose Us?
Over 50 years of industry experience
Florida Certified Experts
Customized solutions that fit your needs and lifestyle at competitive rates