Water Line Repair in Jacksonville, FL
Jacksonville Water Line Repair Specialists
 When it comes to water line repair, you want to be sure that the job is done right. That's why you need a team of specialists who have the experience and know-how to get the job done quickly and efficiently. At Eagerton Plumbing, we have been repairing water lines in Jacksonville for more than 50 years. We are experts in all aspects of water line repair, from fixing leaks to replacing broken pipes. Our community relies on us for fast, reliable plumbing services, and we are always here to help. Contact us today to get your estimate.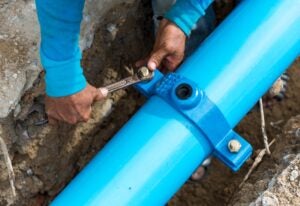 Warning Signs of a Broken or Deteriorating Water Line
Most people don't think about their water lines until there's a problem. But by then, it's often too late. That's why it's important to be aware of the common warning signs of a broken or deteriorating water line. These include:
A drop in water pressure
Hissing sounds coming from water lines
Brownish or discolored water
Sudden increases in your water bill
The Dangers of a Water Leak
A water leak can cause a lot of damage to your home if it's not fixed quickly. Water leaks can lead to mold and mildew growth, as well as structural damage. They can also create an ideal environment for pests like termites and rodents. If you suspect that you have a water leak, it's important to contact us right away. 
The Water Line Repair Process
Leak testing: Most water line problems come in the form of a leak. We'll start by doing a leak test to determine the source and severity of the leak.
Marking utility lines: Once the leak has been located, we'll mark the utility lines so we can avoid them while making repairs.
Site preparation: We'll prepare the site for repair by clearing away any debris or obstacles. This step may also include digging to properly access the water lines.
Repair: We will then make the necessary repairs to fix the leak or replace the broken pipe.
Testing: Once the repair is complete, we'll test the water lines to ensure that they are working properly.
Trenchless Water Line Repair
In some cases, we may recommend trenchless water line repair. This is a newer technology that allows us to make repairs without having to dig up your yard. Trenchless water line repair is less invasive and can often be done in a day or two. It has the added benefits of preserving your landscaping and it's often less expensive. Contact us today to learn more about this option.
Water Line Repair Cost
The cost of your water line repair will vary based on the severity of the problem and the type of repair that is needed. In most cases, the total cost will be between $500 and $1,500. However, if you have a major leak or your water lines are very old and need to be replaced, the cost could be much higher. Contact us today to get an estimate for your specific costs.
Water Line Repair FAQs
Q: Does home insurance cover water lines?
A: Many insurance policies do not cover water lines, so you'll want to check with your provider to be sure.
Q: How often do water lines need to be replaced?
A: The average lifespan of a water line is about 50 years. However, this can vary depending on the material of the pipe and the condition of your water.
Q: What are the most common causes of water line problems?
A: The most common causes of water line problems are leaks, corrosion, and blockages.
Q: How can I prevent water line problems in the future?
A: There are a few things you can do to help prevent water line problems in the future. These include getting your water lines inspected and cleaned regularly, as well as fixing any leaks or breaks promptly.
Choose Eagerton Plumbing in Jacksonville, FL
Eagerton Plumbing has been serving the residents of Jacksonville for more than five decades. In that time, we've become the city's leading provider of plumbing services. We're known for our quality workmanship, fair pricing, and 24/7 emergency service. 
Contact Us for Water Line Repair in Jacksonville
If you're experiencing any of the warning signs of a water line problem, don't hesitate to contact Eagerton Plumbing. Our water line repair company is here to help you 24/7. We'll come out to your home, diagnose the problem, and provide a solution that fits your needs and budget. Contact us today to schedule your appointment.
Why Choose Us?
Over 50 years of industry experience
Florida Certified Experts
Customized solutions that fit your needs and lifestyle at competitive rates