Eagerton Plumbing Drain Cleaning
Drain Cleaning Services in Jacksonville, FL
Clogged drains are a common problem in many homes and apartments. Any type of debris that builds up over time can cause problems, such as slow draining, overflowing sinks, and strange odors. Don't wait until your drain cleaning needs become a bigger problem. Eagerton Plumbing offers a variety of services, and drain cleaning is one of our areas of expertise. We'll arrive on-site with drain cleaning supplies and quickly have your plumbing system working as it should be.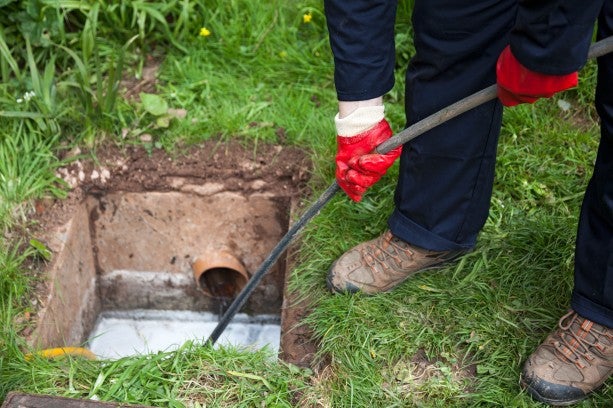 Signs You Need Drain Cleaning Services
These are some of the signs that may indicate you need to call a drain cleaning plumber:
The toilet stops flushing, takes too long to refill, or overflows after flushing.
Foul smells emanating from the drains.
Water in the tub or sink takes longer than normal to drain.
You have stagnant water in the tub or sink.
There are strange sounds coming from the pipes.
The Different Types of Drain Cleaning Methods
Most of us are familiar with the at-home solutions—which can do more harm than good long-term—but chances. Instead of risking damage to your pipes with store-bought drain cleaning chemicals, call a plumber to help enlist drain cleaning services. Our plumbers will use one or more of the following methods:
A tool called plumbing or drain snake is used to manually enter the drain and try to push the clog free. This is usually the first thing a drain cleaning plumber will try before bringing in the heavy machinery.
If you've ever seen a plumbing truck full of machines parked outside someone's house, you're probably looking at a hydro jet truck. Hydro jetting uses a powerful stream of water and forces it through a pipe system to remove a drain clog.
What to Expect With A Drain Cleaning Service
On first contact, you should expect clear answers from the drain cleaning company, which will explain their operations and outline the cost of drain cleaning. Your point of contact should also be clear about any additional costs for tools or labor that might apply, as well as any time constraints.
You will need to provide access to any relevant areas of the home or property where the plumber will work, which may require contacting neighbors for multi-family properties. After the job, expect the drainpipe to start working immediately.
Emergency Drain Cleaning
Emergency drain cleaning at Eagerton Plumbing follows the same quality principles as any of our other services. The difference is around-the-clock availability and rapid appointment booking for emergency situations. Emergency drain cleaning is needed when the drains aren't working at all, and water is backing up in the tub or sink. Water that is simply taking a long time to drain may not warrant emergency service, though you still want to schedule a drain cleaning appointment as soon as possible and avoid using these fixtures as much as you can. Please note that emergency services will cost more than our scheduled visits to offset the cost of 24/7 availability.
To request a quote for emergency plumbing services, call (904) 638-7979!
How Much Does Drain Cleaning Cost?
The average drain cleaning job in Florida costs around $200. There may be additional costs depending on the difficulty and equipment used. Ask your Eagerton Plumbing representative about any additional costs.
Tips to Prevent Drains from Clogging
Follow these simple tips to keep your drain in working order, or to troubleshoot early problems:
Use hair and debris guards on your drains, which can be purchased from most hardware stores.
Avoid putting large or hardened portions of food in the garbage disposal.
Store your grease in closed containers and throw them in the trash instead of pouring grease down the drain.
Avoid placing large quantities of tissue in the toilet and avoid flushing paper towels, baby wipes, feminine products, and cloth napkins altogether.
Try using a plunger on the sink, toilet, or tub.
Drain Cleaning Services FAQ
These are frequently asked questions about drain cleaning in Jacksonville, FL:
How often should I clean my drains?

Most experts recommend you get your drains professionally cleaned every 2 years.

Why not use products like Drano or Liquid Plumber?

While these products work in a pinch, the chemicals contained therein can damage your pipes and cause long-term damage. It's better to use manual tools that won't strip the metal.

Why not use DIY drain cleaning methods?

There is no rule against trying to work out problems with your own property by yourself; however, by not calling professionals, you risk making plumbing problems worse or causing further damage to your pipes.

Can drain cleaning damage my property?

A diligent plumbing service like Eagerton Plumbing will make sure that proper safety and cleanliness protocols are followed so your home and property are exactly as before. At most, there may be digging sites from any underground work that will return to normal within days.
Our Other Services
These are just a few of the diverse plumbing services we offer.
How Are We Different from Other Jacksonville Plumbers?
We have served the residents of Florida for over five decades, and you don't stay in business that long without applying the most care and effort to every job. We combine old-school sensibilities of hard work with modern techniques and continued training to make sure every client walks away satisfied.
Why Choose Us?
Over 50 years of industry experience
Florida Certified Experts
Customized solutions that fit your needs and lifestyle at competitive rates
Contact Eagerton Plumbing in Jacksonville, FL Today
Eagerton Plumbing remains on standby to help with virtually any plumbing-related tasks you can imagine, from the smallest drain cleaning jobs to garbage disposal replacements to plumbing remodels. Contact us today to request more information or schedule an appointment with our professionals.
Why Choose Us?
Over 50 years of industry experience
Florida Certified Experts
Customized solutions that fit your needs and lifestyle at competitive rates