Water Heater Repair and Installation, Jacksonville, FL
Get Water Heater Installation and Repairs from the Industry's Best
As homeowners, we use hot water for many things. Washing dishes, cleaning clothes, showering, and many other everyday functions would be impossible with it. So when your water heater breaks down and needs repairs or replacement, you need to know you have a service company you can trust to make it happen. Eagerton Plumbing in Jacksonville, FL, can be that resource. For more than half a century, our trained, Florida-certified technicians have been helping local homeowners solve their hot water issues fast with expert installations and services that do more. Our company will come to you 24/7 to examine your system and give you the guidance you can use. If your setup needs repairs, we have the time, tools, and experience to handle it right there. If your water heater is beyond repair, we'll help you install a new unit at a price that matches your needs and budget, giving you consistent hot water when you need it the most. Contact us today to get your free quote and let Eagerton Plumbing have the honor of serving you.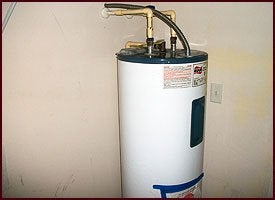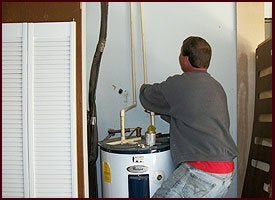 Signs You Need New Water Heater Replacement
When your water needs replacement, you will notice the signs quickly. Whether age begins to take its toll on your system's function or regular wear and tear that comes from escalated usage, you'll start to be aware of myriad shortcomings from your water that will warrant a prompt response. Some will be more drastic than others, but all will require professional assistance before things are back to normal. Several telltale signs your water heater needs replacing can include:
Tank Leaks: After approximately ten years, hot water tanks are known to fail. When they do, they can leak, causing untold water damage to the surrounding area. Moreover, when this failure occurs, it is often too costly to repair an old system. It makes more sense financially and functionally to have a new unit installed in your home by trained professionals.  
Discolored Water: Sediment accumulates over time from the water flowing through your system. This sediment builds to unhealthy levels, causing rust and eventually discolored colored to come pouring from your fixtures. When you notice this, the rust may be so extensive that it makes little sense to clean out and repair your tank. This is when total tank replacement is your best option.
Temperature Problems: Dramatic temperature change is one of the most noticeable effects you will experience from a broken water heater. When you are showering, and the water is tepid or even cold, you have serious issues you must address. If the problem isn't with your electrical, it may be a system failure, warranting complete replacement.
Types of Water Heaters
The right type of home water heater will depend on many factors. Your budget, your existing setup, usage, and water supply are among your main considerations. At Eagerton Plumbing, we will always help you sort through all your options and decide which one is best for your needs. For Jacksonville homeowners, there are generally two options to choose from:
Conventional Water Heaters: Much like the model you probably have today, conventional water heaters use the existing main water supply and store your home's water in a large tank. Though innovations have added to even the most rudimentary home tanks, the function is nearly the same: the water is stored hot and ready for use; however, it must be replenished after heavy use.
Tankless Water Heaters: Tankless water heaters take in cold water and heat it whenever it is needed. They are much more compact, durable, and energy-efficient than conventional models. There is no need for hot water storage, and tankless water heaters can save you more on repairs. Eagerton Plumbing installs top-of-the-line water heaters from trusted brand names like Rinnai, Rheem, Bosch, and others.
Our Water Heater Repair & Installation Process
When you install a water heater with Eagerton Plumbing, you know exactly what to expect. We'll come to your home for regularly scheduled or emergency service, assess your water heater needs, and give you invaluable insights on the best model for your unique budget and setup. Once you've made a selection from our unsurpassed inventory, we will take the time to repair or install everything correctly to give you reliable function for life. Our certified technicians stay up to date on the latest repair and installation methods and industry training, giving you the fast, easy, efficient installation you want while minimizing interruption to your daily life. Contact us today for your free quote and start the process with a name you can trust.
Signs That Your Water Heater Needs Repairs
Sometimes complete water heater replacement is not the answer. There are instances when making minor repairs your existing system will return optimal function for years to come. Eagerton Plumbing can be your number-one resource for expert water heater repairs in the Jacksonville area. We know the common signs your system is malfunctioning and do everything in our power to correct them. Contact us for professional assistance when you notice any of the following:
Hot Water Cylinder Leakage
System Failure of Hot Water
Fluctuation in Water Temperature
Reduced Hot Water Pressure
Leakage of Hot Water
Cloudy Water with an Unpleasant Smell
Odd Sounds Coming From the Water Heater
Rusty Water
Lukewarm Water
Hot Water Keeps Finishing
Defective Drain Valve
Leaking Pressure Relief Valve
Why Choose Eagerton Plumbing?
For more than 50 years, our trusted water heater installers and repair technicians have used their expertise to benefit our customers. We personalize every interaction with you, coming to your home 24/7, offering the latest repairs and installs of the top products in the industry and the guidance you need to keep your systems running stronger and longer. From cost-conscious traditional water heaters to state-of-the-art tankless systems, we are your best resource for expert water heater service and professional dedication you can always count on. Contact us today to schedule your free estimate.
Contact Eagerton Plumbing for Expert Water Heater Installation and Repairs
Repairing or replacing your water heater can give you modern capabilities and energy efficiency that save you more. To achieve all the benefits of an advanced system, however, you need seasoned technicians with the right equipment and experience. Contact Eagerton Plumbing today for your free water heater repair service quote, and let us give you the professional workmanship you deserve.
Why Choose Us?
Over 50 years of industry experience
Florida Certified Experts
Customized solutions that fit your needs and lifestyle at competitive rates