Kitchen Plumbing Services in Jacksonville, FL
Is your kitchen sink clogged right before you host a big gathering? Are you interested in upgrading your kitchen faucet? Are you having trouble getting your garbage disposal to work?
The team at Eagerton Plumbing is here to help. Our Jacksonville, FL, plumbers are skilled at all types of kitchen plumbing services, from unclogging kitchen sinks and garbage disposals to replacing kitchen faucets. If you're dealing with a clogged kitchen sink, broken garbage disposal, or a leaky faucet, our team will come to your home as quickly as possible so we can take care of the problem. If you're simply interested in upgrading your existing kitchen faucet or installing a new garbage disposal, our plumbing team will schedule a time convenient for you, performing our work efficiently with attention to detail.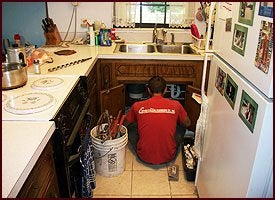 Clogged Kitchen Sink Repair
Kitchen sinks always seem to get clogged at the worst times: when you're about to host a dinner party, when guests are coming to stay at your house for the weekend, or when you're trying to get dinner together for your family. At Eagerton Plumbing, our skilled plumbers will come to your place as soon as possible, often on the same day of the call. We'll assess the cause of the kitchen sink drain clog and determine the best method for clearing the drain and getting your sink running smoothly again.
Kitchen Faucet Installation and Repair
If your kitchen faucet is continuously leaking, no longer has the steady water flow it used to, or is simply outdated, our team at Eagerton Plumbing is here to help. We provide thorough kitchen faucet repairs, replacements, and installations, helping you get a kitchen faucet that meets your cooking and washing needs. If you're dealing with a broken or leaky faucet, our team will assess the extent of the problem and determine how best to repair the problem. In some instances, the repair may be so extensive or the faucet so old that it may not warrant the effort or cost to fix it. In those cases, we'll inform you of your options and let you decide whether repair or a new unit for a full faucet replacement is your best option.
Garbage Disposal Installation and Repair
Garbage disposals are an extremely convenient part of your kitchen until something goes wrong. Broken garbage disposals can be a headache, especially if you have discovered the problem only after putting food in them. Left to sit, the food can rot and lead to an unpleasant odor in your kitchen. Trying to repair garbage disposal by yourself can be dangerous due to the sharp blades involved.
At Eagerton Plumbing in Jacksonville, FL, we provide comprehensive garbage disposal installation, repair, and replacement. We'll safely address the issue and provide lasting repairs or replacement solutions for your garbage disposal. Contact us today to know more about our comprehensive plumbing services.
Call (904) 388-0761 today for kitchen plumbing services!
Why Choose Us?
Over 50 years of industry experience
Florida Certified Experts
Customized solutions that fit your needs and lifestyle at competitive rates