If you're not in love with your kitchen, you should be. Not only will a kitchen remodel give you the opportunity to have the dream kitchen you've always wanted, but it will also increase the value of your home and help you pocket more cash should the time ever come to sell. When you work with a professional  kitchen re-modeler , the sky's the limit in terms of what's possible for your new space. If you're planning a complete remodel and thinking about changing the layout of your kitchen, discuss these popular layout styles with your kitchen re-modeler.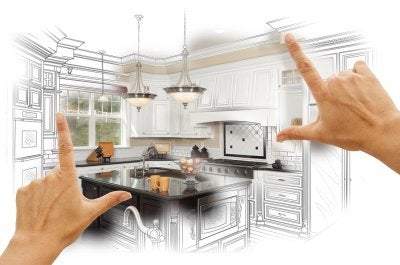 U-Shaped Kitchen Layout
For massive storage space and prep areas, consider the U-shape kitchen layout. This kitchen design provides a massive expanse of counter and storage space as well as great flexibility for dining, cleaning, and work stations.
L-Shaped Kitchen Layout
One of the classic design layouts of all time, the L-shaped kitchen layout forces foot traffic out of the work area so you are free to prep, cook, and clean in peace. The L-shape layout works for kitchens of all sizes, though it is particularly popular among small kitchen.
Corridor-Style  Kitchen
If you have a small kitchen, you may want to consider a corridor-style or galley kitchen. The corridor kitchen has two straight runs on either side. The drawback to this kitchen design is traffic flow, but it may be the best option for a small kitchen.
Zone Kitchen Design 
If you have a large kitchen and want to break up the different areas, consider a zone design. With a zone design you'll have a separate work station for cooking, eating, and cleaning, allowing space for several people inside the kitchen all at once without feeling cramped or crowded.
Even if you aren't in the market for a total kitchen re-do, a kitchen re-modeler can make one or two updates to give your space a fresh new look and feel. Schedule a kitchen design consultation today to explore your options and put your ideas down on paper.