Whether you are getting tired of your bathroom or you would like to make better use of your space, a bathroom remodel near Jacksonville can be a great way to solve the issue and let you enjoy your home to the fullest. Fortunately modern bathroom design emphasizes creativity and freedom, and there are many templates that you can look towards for ideas. Since it always helps to have a plan before beginning your project, get inspired with these bathroom remodel ideas.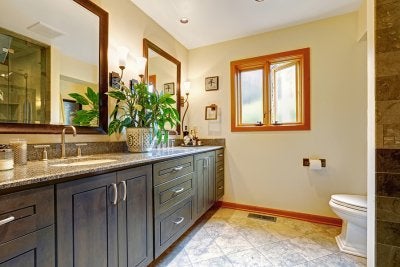 Deep, Bold Red
If you have decided to remodel your bathroom because your design has not held up over time, consider making the jump to something much more modern. Today's bathrooms play with intense colors and stark contrasts to create calm and luxurious environments. Consider painting your walls a deep red or covering them in a bold red wallpaper. You can then introduce elements of black around the room to contrast with the vibrant red hues. If your bathroom does not have windows or is not in an area where much natural light comes in, use a mirror to reflect your artificial lighting and fill the room.
Light and Contemporary
The only thing more luxurious than a bath is bathing in sunlight. If you have a second floor bathroom or you live in a particularly secluded area, you have the opportunity to create large windows through your bathroom remodel. This can allow you to wake up and start your day with a dose of vitamin D, and it lessens the burden of artificial lighting; this, in turn, can even save you money on your energy bills. Place a tub in the middle of the room and surround it with natural elements like stones and plants to round out your airy, contemporary bathroom design.
Double Vanity
The best kind of design is one that is practical, and a double vanity is exactly that. If you live with your significant other, you might want your bathroom remodel to bring in a double vanity. This allows you to make the most of a larger bathroom and prepare for the day alongside your companion.