Modern design came into fashion in the post-WWII era and is characterized by clean lines, accent colors, and minimalist décor. If you're getting ready to contact a bathroom remodeler in Jacksonville , then consider the following design ideas to give your new bathroom an attractive and modern mid-century look.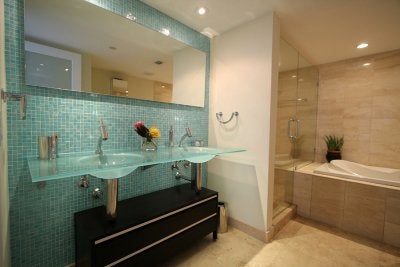 Accent Colors
While cool, neutral colors may come to mind when you're planning your modern bathroom remodel, some of the most impressive and memorable makeovers are created using bold, bright colors. These eye-catching accents can be incorporated in a variety of ways. For example, you could choose shower tile, a vanity countertop, or cupboards in colors like cobalt, scarlet, lemon, emerald, and marigold.
Distinctive Patterns
If you want your bathroom remodel to remain free of bright colors and have a soothing, simplistic color palette, then another way to add interest to the space is to include modern patterns, like herringbone and chevron, using contrasting shades of gray, black, and white. These patterns can be incorporated by using wallpaper, floor and shower tile design, stenciled wall paintings, and vanity backsplashes.
Combined Materials
When choosing materials for your remodel, you'll find that glass, slate, ceramic, stone, metal, and wood are some of the most common choices for modern bathroom design. However, it's important to keep in mind that how you choose to display these materials can be critical for achieving a modern look. An excellent option is to combine materials like ceramic and glass into the room's tilework. You could also combine wood and stainless steel into your vanity design.
Coordinating Accessories
To pull your modern bathroom's design together, it's ideal to keep the shapes, curves, and angles of any furniture and accessories within a single aesthetic. For example, choosing storage, seating, and a toilet that have clean, straight lines, as well as lighting features with rounded, rectangular, or square shades and fixtures, can emphasize your bathroom's modern design. Finally, remember not to pack too much detail into your remodel if you want to achieve the seamless and unadorned look for which modern design is known.