If you're considering an all-out kitchen remodel near Jacksonville, take the time to decide what kind of layout is most conducive to your needs. The right layout will make sense for your home design and the way your family uses the kitchen, and it might have a spot for a water heater built into a cabinet. Kitchen islands are popular among modern home designs, but one wall and L-shapes are trending as well. Before you decide, you should learn about the pros and cons that each one has to offer. Read on and explore some kitchen layout options.
Kitchen Islands
Your kitchen remodel should make your space more versatile, accommodating, and aesthetically appealing, and a kitchen island can help on each of these levels. Your island might include a sink for preparing food, cabinets for storing your food prep materials, and seats so your guests can chat with you while you get dinner ready. It also opens more opportunities to accent your kitchen design scheme, no matter what the theme may be. If you have the space for it, a kitchen island could transform your space for the better.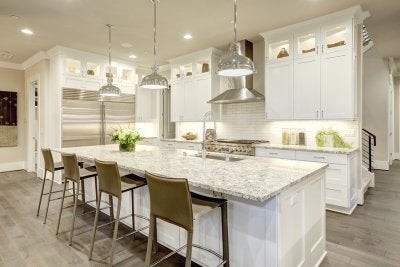 One Wall
If you don't have the room for a kitchen island and your primary objective is to save space, then a one wall setup might be the right call. This is ideal for smaller spaces like studio apartments and loft spaces. In this case the entire food preparation area is set against one wall. That means cabinets, sinks, countertops, and any other food preparation areas and appliances. The one wall layout is an effective way to make the most of your space, especially when you don't have much to work with. In addition, you won't have to worry about corner cabinets.
L-Shape
If corners don't bother you and you have the space for it, an L-shape kitchen layout may be perfect. This design features cabinetry and food preparation areas that run along one wall and wrap around to the perpendicular wall. It doesn't matter which side of the "L" is longer, and both sides can even be the same length.