A bathroom remodel is a fantastic investment for your home. Whether you are planning on selling your house, or are simply looking for an effective way to spruce up your living space, a bathroom remodel project may be the right choice for your next home improvement project. To get the most out of your bathroom remodel, you can consult with plumbers serving Jacksonville . From planning your bathroom design to installing your fixtures, your plumber will be able to assist you with every step of your bathroom renovation. Read on for a closer look at some of the latest bathroom remodeling trends that you may want to consider for your home.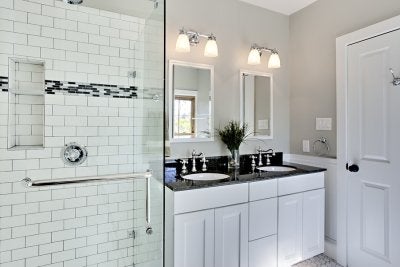 Mediterranean Design
This year, many bathroom designers are looking to the Mediterranean as sources of inspiration. Countries such as Spain and Portugal use rich metallic colors and interesting tile patterns in their traditional architecture. When you are planning a Mediterranean bathroom, you may want to incorporate exotic features, such as terra cotta tiles or a backsplash in a rich shade of gold or turquoise.
Ample Storage
Ample storage is a bathroom trend that will never go out of style. Whether you have a large bathroom, or are working with a smaller space, incorporating plenty of storage into your remodel will boost the function and appeal of your design. To add decorative storage into your bathroom, you can install built in shelving. Antique furniture can also add a unique appeal to your new bathroom design.
Subway Tile
Subway tile mixes old world charm with new world aesthetics. When you are planning out your bathroom remodel, you may want to consider using subway tile for your walls, shower, or even flooring. With subway tile, you will provide your bathroom with a clean and polished look. For those homeowners who are remodeling on a budget, subway tile is an affordable option. Your plumbers can provide you with more tips and ideas for your stylish new bathroom design.