Hidden leaks might be even worse than obvious ones, because they'll continue to waste the water you pay for until you find them and fix them. Additionally, leaks of any kind, size, or origin can have negative effects on your office or living space. Leaks can come from your sewer line, your faucets, or even appliances like your hot water heater. Mold and mildew are common signs that it's time to call the plumber in Jacksonville. You should also keep an eye out for deteriorating walls, as well as stains in the ceiling and a sponginess in your floors. Keep reading for more on detecting a hidden water leak.
Mold and Mildew Problems
It doesn't take much for mold to survive, grow, and spread. Moisture is one of the only necessary ingredients, which makes a hidden water leak dangerous for your indoor air quality. If you notice a mold or mildew problem and have it cleaned up, and never see it again, then you probably got the problem at its source. If it keeps coming back, then it might be due to a water leak you haven't been able to find. Don't waste any time in calling your plumber to help you deal with the leak. Mold spores cause allergy and asthma symptoms, and certain kinds of mold can be much more dangerous.
Wall Deterioration
If your walls appear to be buckling, consider whether they may be a leaky pipe behind them. A leaking supply line may saturate the wall that hides it, causing it to swell up and then crumble. The same situation can cause visible changes in your wallpaper or your paint job. Your plumber can open the wall and repair the leak, and then you can focus on repairing the wall.
Ceiling Stains and Spongy Floors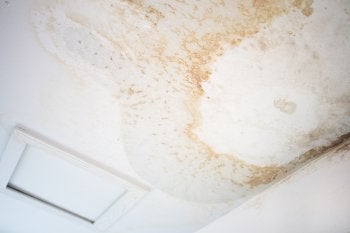 When you lay down on the couch and notice yellow or brown spots on your ceiling, you may have a leak coming from upstairs. The same could be the case if your flooring feels moist or spongy, especially if you have wood floors.